Mold Remediation Services You Can Count On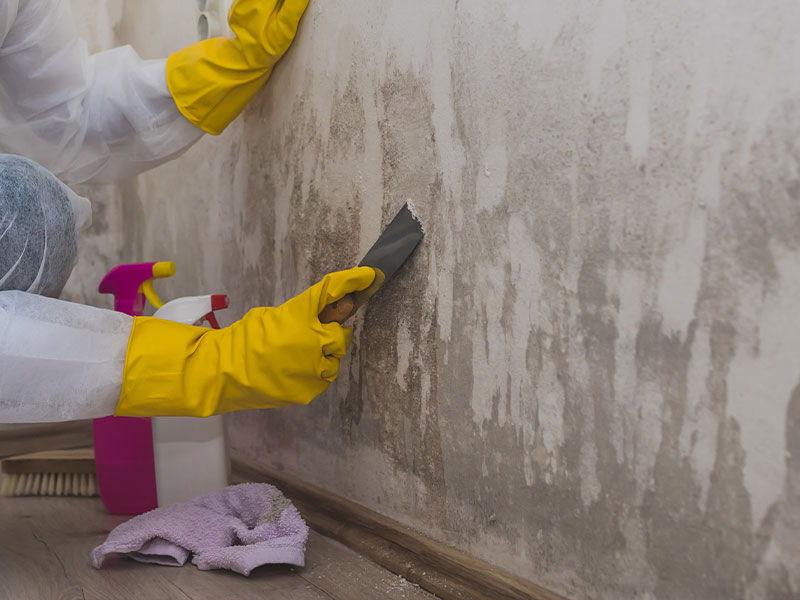 No facilities manager wants to hear that a building has mold, especially not if a lot of people spend time in the building. Left unchecked, mold growth can spread throughout a building's insulation, ceilings, walls, carpeting, and HVAC system. High mold spore counts can cause respiratory problems and allergic reactions. Sick employees, guests, or students are a lawsuit waiting to happen. If you or a resident discovers moldy areas in one or more of your buildings, don't delay. Call in a professional mold remediation team like PBI Commercial.
When you contact us to tackle your mold issues, we:
Respond immediately.
Identify the real problems.
Formulate the right solution.
Get the work done fast.
Get the work done right.
And do it safely.
What is Mold Remediation?
Mold remediation focuses on getting your building's mold problem under control. There will always be a certain amount of naturally occurring mold spores in the air, but when humid conditions, an undetected roof leak, a plumbing leak, flooding, or other moisture problem causes mold to grow, you need to call trusted mold remediation specialists. In many commercial facilities, the existence of a mold issue isn't revealed until other renovations or repairs are underway.
There are several steps to a successful mold remediation project, including:
1. Inspection and Mold Damage Assessment
When we come to your location, we will do a visual inspection for mold. We may ask for the results of any air quality tests you have had done. We may cut into drywall, lift up carpeting, etc., to determine the extent of the spread of the mold. We may also use a moisture meter to determine how much moisture is in the air.
2. Identifying the Root Cause of the Mold
Mold only grows in areas where it is damp or moist. We will identify the root cause of the moisture, and come up with a targeted solution. Causes of moisture in a building can include:
Leaking pipes
An HVAC system that is not removing enough humidity
Foundation moisture issues
Faulty construction
A one-time event, such as flooding
The root cause of the mold must be addressed to keep it from coming back. That may mean fixing plumbing issues, repairing or replacing HVAC components, resolving indoor air quality issues, basement waterproofing, and more. We have the expertise to identify the real problem and formulate the right solution.
In the rare event that your facility needs a repair or restoration service we don't provide, we have trusted partners we work with.
3. Mold Containment
Proper mold containment will keep the mold spores in the affected area from spreading during the mold remediation process. We'll install a HEPA Filtered Negative Air machine, which will pull contaminated air out, and exhaust it outside through flexible tubing. Your HVAC system will be turned off during the mold remediation process to prevent mold spores from circulating to uncontaminated areas. .
We will also hang heavy plastic sheeting around the perimeter of the affected area to create a physical barrier that isolates the work area. Any air vents and electrical outlets would also be covered.
4. Mold Removal and Removing Mold-Infested Materials
We can use antimicrobial and antifungal treatments to clean up the mold from non-porous structural surfaces. We will remove and dispose of any mold-infested materials such as insulation, drywall, flooring, cabinets, subfloors, plywood, or other materials that are contaminated by mold. Only by completely removing or tearing out mold-damaged materials can we ensure the original mold will not continue to spread.
We also offer document drying and recovery to save important documents.
5. Water Damage Restoration
Mold remediation is sometimes part of a larger water damage restoration project. Once we have resolved the moisture issue that allowed the mold to grow, we can restore your facility. We've been in the commercial construction business for more than 30 years, and bring a level of expertise that is hard to match.
We have experience restoring older buildings as well as newer commercial complexes. And even better for you, we tackle your project quickly. When you work with PBI Commercial, you've found a qualified, trusted partner who specializes in speed and obsesses over minimizing disruptions.
Mold Remediation Success Stories
We'd like to share just a couple of our mold remediation success stories. In both cases, time was of the essence.
La Cite Development LLC.
In the middle of a massive development project in Baltimore, La Cite discovered that 252 condominium units and common areas in the buildings were in urgent need of mold remediation and repair.
These units, spread throughout two buildings in the development, had a construction defect that caused mold to grow. We quickly developed a mold remediation and repair solution that allowed them to continue with the overall project. Check out the story here.
George Washington University
In August of 2019, right before students were due to arrive back on campus, George Washington University facilities workers were performing a routine inspection of Somers Hall when they ended up exposing major health hazards and structural issues on the lower level.
Sixteen of the units in Somers Hall had extensive damage from water intrusion. This damage made them unlivable just as students were about to descend on a campus without any rooms to spare.
PBI Commercial took on the project on August 10th, and students were set to arrive on August 17th. Check out the story of how our expertise and quick work saved the day and allowed students to move in as planned.
Avoid Risk and Hire Trusted Partners for Commercial Mold Remediation Services
Get the job done right, and done fast by hiring an experienced, licensed, bonded, and insured commercial mold remediation company. Every time you hire a contractor for a commercial construction challenge, it's a risk. PBI Commercial delivers turnkey solutions with proven results, so you can have one trusted partner for resolving any restoration, renovation, or construction challenge that lies ahead. We proudly serve the Mid-Atlantic region, including Maryland, Washington DC, and northern Virginia.
Challenges Resolved. Guaranteed.