Tips for Staying Open during Commercial Construction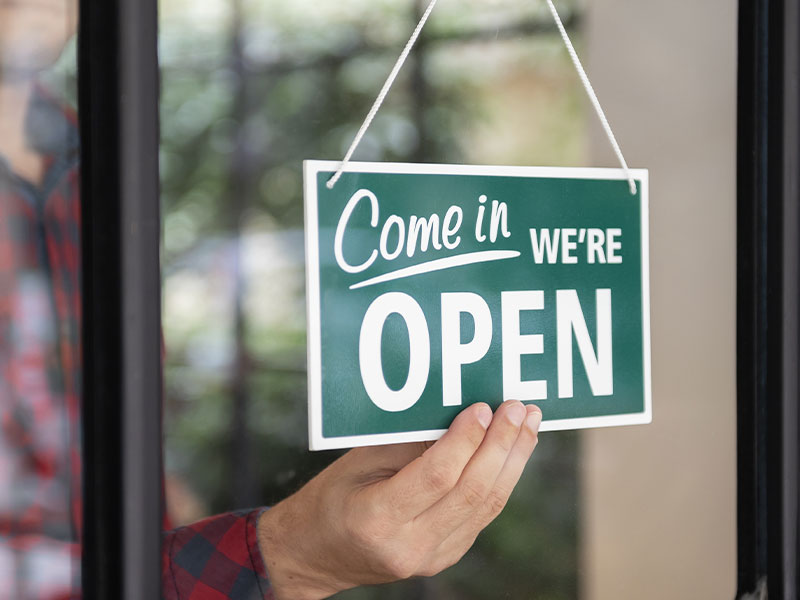 Commercial construction and renovation projects such as an expansion can be planned well in advance. Other projects become suddenly necessary after flooding, a fire, or to comply with new regulations. Whatever the reason you need to hire a commercial construction company, you need to hire one that can help ensure you can keep your doors open for business during the process.
As a business owner or property management company, you're under pressure to make sure the construction project moves along smoothly, while also ensuring the disruption to your customers, tenants, and employees is minimal. The good news is keeping your doors open during commercial property restoration or renovation is doable. You just need a solid plan and a general contractor skilled in tackling commercial construction projects quickly and professionally.
Here at PBI Construction, we've built a reputation for performing highly complex projects with speed, responsiveness, and quality while delivering great value. We have unparalleled experience in completing complex projects with minimal disruption to occupied spaces.
If you're committed to keeping your doors open during your commercial construction, renovation, or restoration project, you need to plan ahead. This includes:
1.   Assess the Scope of Your Commercial Construction Project
You will need to evaluate the scope of the construction project and work with your general contractor to determine how the various types of commercial construction will affect your operations. With realistic expectations and a clear understanding of the construction process, you'll be able to make adjustments that will help you meet your customers' or tenants' needs.
Questions to ask when you're assessing the impact of the project include:
Which parts of the building(s) will be affected?
Will utilities need to be cut off? For how long?
Will any entrances or exits be blocked?
If yes, what are the other ways for customers can get into the building?
Will you need to reconfigure your fire safety plan?
How will you work around construction noise issues?
Do you need to change your hours of operation?
How long should you plan for the project to take?
Your commercial construction contractor can help you review and answer these questions, as well as help you prepare for these situations and others as they arise.
2.   Make a Plan to Minimize Disruption
Before the construction crew starts any work, make sure you meet with your contractor and create a construction plan that focuses on these issues:
Safety – This is the top priority of any construction project. Construction site safety is especially important for commercial locations that choose to stay open while work is done.  You will need to take extra precautions to ensure the safety of construction workers and customers.
One of the most effective ways to promote safety during an ongoing open construction or renovation project is to do the work in sections. Placing barricades to these areas can also reduce the risk of a mishap. Other safety precautions include:
Adding extra ventilation
Covering electrical cords
Placing signs on trip hazards
Giving your employees earplugs or masks
And more, specific to your project
You should also plan on setting aside a staging area where your general contractor can temporarily store construction materials and equipment. Ideally, this area would have a door that locks or temporary fence to discourage theft.
Noise and dust – Businesses, especially medical centers and senior living facilities, need to be especially aware of these common disruptions that come with construction. Make sure your contractor will seal off work areas with plastic sheeting to keep sawdust and drywall dust contained. Make sure the dustiest work (like grinding and cutting tiles) is done with minimal disruption to occupied spaces. Plan for the noisiest work when there are the fewest people in the building, but definitely NOT at night if people sleep in the facility.
Planning your commercial construction or renovation project requires time and expertise. Do your research, and get recommendations from businesses or facilities like yours. You want to hire professionals who understand your goals and have the skills and experience to do the job right, do it quickly, and compete it on budget.
3.   Determine a Timeline
Timing is a crucial factor in the success of your commercial property restoration or renovation project. In business, time is money, so you need the project completed in the least amount of time possible, but with the least disruption. So you have to decide when the work will be performed.
Do you need the construction work to be done during business hours, in the evening, or on days where nobody is in the building? Will construction work take place all week or just on specific days? If your facility is open 24/7, will the contractor work 24/7, days only, nights only, or some combination of hours? You want your general contractor to be able to work a flexible schedule, especially if this is an emergency situation, or you have a tight deadline.
4.   Communicate with Everyone
Alert your customers and employees to the construction project ahead of time, if possible. This way you can prepare them for what to expect with the upcoming/ongoing construction project. Use a variety of platforms to keep everyone informed. Send your employees an email or text (or both) with the complete details of the construction work (such as dates and areas that will be affected). Remind them and update them during staff meetings.
For customers/tenants, post signs prominently in your business and on the entry door(s) with the details. Update your company website, and make announcements on social media. You can also hand out fliers that remind customers of the construction dates. The idea is to minimize any inconvenience.
Don't forget to alert your vendors. You may need to make special accommodations for deliveries and pickups, as well as cleaning services.
Putting everyone in the loop allows them to make any needed adjustments and reduces possible disruptions to their lives. And of course be sure to stay in constant contact with your commercial construction contractor, so you are aware of any changes or updates to the construction plan or timeline.
5.   Manage the Flow of Traffic
Your customers and employees should be able to enter and exit your property easily and safely even when your construction project is in full swing. Avoid construction site accidents and minimize confusion by putting up large, bold signs that indicate:
Location of entrances and exits
Detours
Parking areas
Restricted areas
Construction zones
Easy access routes for emergency vehicles
Traffic flow
Depending on your location, you can also put up traffic cones, caution tape, put temporary directional markings on the pavement or floors, etc. Anything that will help people know where to go and where not to go during construction will be helpful.
6.   Reap the Benefits of Your Project
Once your commercial construction or property renovation project is complete, and everything is cleaned up, you can reap the benefits. Your customers or tenants will notice the improvements. Your employees may be happier and more productive.
You may want to consider holding a Grand Reopening as well as offering some reward to loyal customers for bearing with you during your project. If you expanded your space, promote the changes on your website and on social media. Doing so can help you attract new customers. You'll see a return on your investment as a result.
Avoid Risk and Hire Trusted Partners for Commercial Construction Services
Avoid code violations and on the job mishaps by hiring an experienced, licensed, bonded, and insured commercial construction company. Stay away from "handymen" or someone who offers to do the job on the side. While you might save money up front, you may have to pay another contractor to come in and clean up the shoddy work the first people did. Or you may be left with a half-finished product when workers don't show up.
Every time you hire a contractor for a commercial construction challenge, it's a risk. PBI Commercial delivers turnkey solutions with proven results, so you can have one trusted partner for resolving any restoration, renovation, or construction challenge that lies ahead. We proudly serve the Mid-Atlantic region, including Maryland, Washington DC, and northern Virginia.
Challenges Resolved. Guaranteed.