Water Damage Restoration 101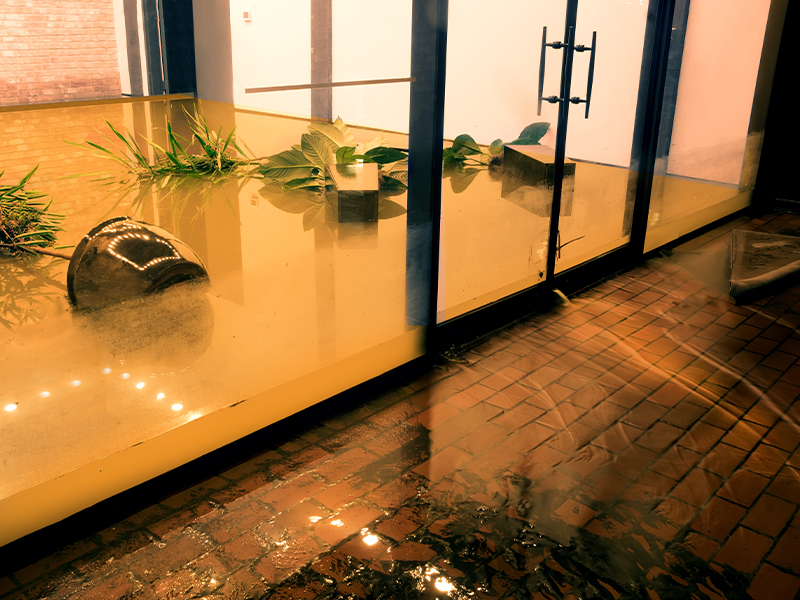 Water Damage Restoration – How the Professionals Can Help
You may need a water damage restoration company to help your commercial facility for any one of a number of reasons, including:
Flood damage
Sewer backup
Sprinkler damage
Firefighting water damage
Burst pipes
Roof leak or collapse
Appliance issues
And more
Water damage is serious business. If water is left standing, mold, mildew, and contamination issues can soon follow.
CALL 24/7 1-888-PBI-1988 FOR EMERGENCY SERVICE
Water damage restoration projects can be incredibly complex, and in commercial construction, it takes an experienced eye to spot the real problems, see how things are connected, and assess how deep the damage really goes.
The PBI Commercial water damage restoration process can include several steps, depending on the root cause of the water damage, and how extensive the damage is. We can perform many of these tasks at the same time, by dedicating a team to each issue.
1. Security and Temporary Fencing
If you had a fire, or severe flooding, your building may no longer be structurally sound. When our team arrives, one of the first things we will do after assessing the damage is to secure the location.
This can include boarding up windows, locking doors, and installing temporary fencing to secure your location from intruders. This also prevents anyone from wandering into an unsafe area of the building.
2. Water Mitigation
Water mitigation, or water extraction, is one of the first steps in water damage restoration. We may install pumps and hoses to remove standing water, Once the standing water is gone, we may install fans and use industrial water extraction devices and structural drying techniques to minimize damage. This will help to reduce the chance of mold growth.
If your water damage is due to a leaking pipe, you may already have mold growth in insulation, drywall, or flooring materials that has been hidden.
3. Contaminated Water & Sewer Backup
Flood water is contaminated. So is the water from a sewer backup. The water may contain bacteria, viruses, fecal matter, chemicals, and other toxins that can cause illness.
After safely removing the water, we will remove and dispose of all contaminated items. We will then clean and sanitize the area.
4. Roof Leak or Collapse
A roof leak can go undetected for quite a while, and then suddenly the ceiling collapses with a rush of water. Or heavy snow may be too much for a roof to withstand, and it collapses. Another common scenario is the combination of high winds and rain, where a roof peels off and the heavy rains damage a building's interior.
In this situation the first thing we do is secure plywood and tarps give you a temporary roof of sorts, which we will replace as soon as the weather clears. In the meantime, we will go to work on the inside to save as much of your company inventory and property that we can.
5. Carpeting and Upholstered Furniture
If the carpeting and upholstered furniture hasn't been covered in standing water for too long, we may be able to extract the water and save some of these items. When determining what items to work on, we take 3 things into consideration:
Length of time the items were wet or under water
Age & condition of the carpet or furniture
Type of water that caused the damage
It may be cheaper to replace some items. If flood water or a sewage backup was the cause of the water damage, we would remove and dispose of all carpet and upholstered items.  If clean water from a sprinkler system caused the damage, our restoration experts can more easily dry out and save the items.
6. Document Drying and Recovery
Even if you keep your important documents locked up in filing cabinets or your desk, flood waters can damage them. Fortunately, today, most commercial operations keep a digital copy of important documents.
If you wish, we can restore your vital documents and photos with:
Vacuum freeze-drying, microbial disinfecting, and ultrasonic separation
Deodorizing, sanitizing, and gamma ray irradiation
We will also securely dispose of any documents and paper products that have been irreparably damaged. This includes cardboard boxes of documents which may have been affected by mold.
7. Mold Remediation
Mold remediation and water damage restoration often go hand in hand. Some items, like drywall, carpeting, and paper products grow mold very quickly. If you have mold as a result of water damage, we will remove and dispose of mold affected items that cannot be saved. We can usually clean and disinfect solid surfaces such as metal, plastic, and some wood.
8. Demolition and Debris Removal
Once we've removed all of the water and done a full damage assessment, we know what can stay and what needs to go. We may tear out drywall, pull down ceilings, tear out damaged roofing materials, and more. We will remove any construction debris, as well as mold-damaged items and water damaged items that you would rather replace than try to save.
9. Renovation
Now comes the fun part. After getting rid of all of the damaged items, we have a clean and dry slate to work with. Our team will have gone over with you what improvements you want to make in this commercial restoration process. Now is a good time to upgrade materials such as flooring and trim. If your building is in a flood prone area, now may be the time to replace first floor carpeting with waterproof flooring.
Or, if you have a historic building and you want it restored to its former glory, we can do that too, matching materials as closely as possible. You're the boss.
10. Get Back to Business (fix the formatting)
With PBI Commercial, we may very well be able to perform water damage restoration while your business remains open. We are experts in coming up with creative solutions that provide maximum benefit with minimal disruption to occupied spaces. We can help you relocate certain operations to a part of your facility that is undamaged, so that we can perform the needed work. Our goal is to get your commercial operation back to normal as quickly as possible.
Avoid Risk and Hire Trusted Partners for Water Damage Restoration Services
Eliminate water damage issues and recover as much as you can by hiring an experienced, licensed, bonded, and insured commercial water damage restoration team. The team at PBI Commercial has decades of experience helping businesses and facilities of all sorts get back to normal after extensive water damage. Every water damage restoration project has unique challenges and unknowns. We'll prove our reputation as fast, agile problem solvers.
Every time you hire a contractor for a commercial construction challenge, it's a risk. PBI Commercial delivers turnkey solutions with proven results, so you can have one trusted partner for resolving any restoration, renovation, or construction challenge that lies ahead. We proudly serve the Mid-Atlantic region, including Maryland, Washington DC, and northern Virginia.