What Happens During the Fire Damage Restoration Process?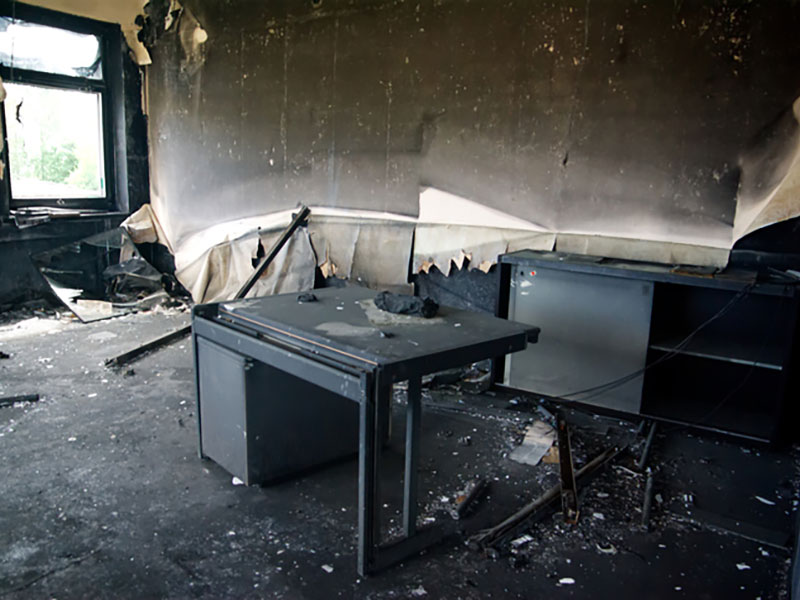 Fire Damage Restoration Process Steps
Formulate a Restoration Plan
Secure the Facility
Water Extraction
Demolition and Debris Removal
Soot Removal and Smoke Damage Mitigation
Repairs and Restoration
Renovation
According to the U.S. Fire Administration, commercial, or non-residential fires cause billions of dollars in property damage to commercial, industrial, and manufacturing facilities every year. While a good fire safety plan can save lives, it is just as important for your property manager or facilities manager to know who to call when the fire is out and the fire trucks have left. For best results in salvaging and restoring safety and function to your facility, the fire damage restoration process should begin as quickly as possible.
Fire and water damage restoration projects are incredibly complex, and in commercial construction, it takes an experienced eye to spot the real problems, see how things are connected, and assess how deep the damage really goes.
The cost of business interruption and the possible loss of long-standing customers and/or tenants make it imperative to expedite the fire damage restoration process. In many situations, we can complete fire damage restoration in one party of your facility with minimal disruption to the people who use another area of the building.
1.   When We First Arrive
We offer 24-hour emergency services, so you can call us day or night, whenever the fire is out. When you call we will respond immediately, and quickly assess the extent of the damage. We will then formulate a fire damage restoration plan, and get to work. You can depend on us to get the work done fast, and get it done right.
We will record and document everything for your insurance company.
2.   Safety First
Once we have done our assessment and damage evaluation, we will take the necessary steps to secure your facility, and prevent further problems. This can include:
Installing Security and Temporary Fencing
Temporary Board Up and Roof Cover-Up
Bracing to Maintain Structural Integrity
And more
3.   Water Extraction and Structural Drying
Whether your sprinklers went off and drenched everything, or firefighters spent hours fighting the fire, the first concrete step towards fire damage restoration is getting rid of the water and drying everything out. This will help prevent any further water damage and mold growth.
If you or our team sees evidence of mold, we can take care of it, as we are also experienced in mold remediation.
4.   Demolition and Debris Removal
Once everything is dry, we will begin any demolition and debris removal that is necessary to begin repairs. We only remove irreparably damaged construction materials, furniture, and other items. Anything structural that we can repair or restore, we will.
5.   Soot Removal and Smoke Damage Mitigation
In some instances, soot removal and repainting or refinishing is all you need in any areas of your building that were not damaged by the fire. If the blaze was contained to one portion of your facility, it's likely that you have soot and smoke damage to other areas. Our team will do a smoke damage evaluation and perform structural cleaning and odor control.
Before repainting any walls, ceiling, or trim not damaged by fire, we will scrub and sand before priming and painting to ensure the paint job lasts for years to come.
6.   Repairs and Restoration
Once all of the above steps are complete, we begin structural repairs and restoration. Since 1988, we've built a reputation for performing highly complex fire damage restoration and construction projects with speed, responsiveness, and quality while delivering great value.
We are skilled in all areas of commercial construction, including carpentry, roofing, plumbing, electrical wiring, HVAC, painting, etc. We've solved unique commercial construction challenges for thousands of properties in categories such as:
Healthcare
Hospitality
Government
Multifamily
Education
Commercial Offices
Senior Living
Religious Institutions
7.   Renovation
There are many reasons to use the devastation of a fire as a starting point for a full renovation. Perhaps your facility was due for an upgrade anyway. Rather than restoring things to the same conditions, you may decide to use this chance to reconfigure spaces, expand with a new addition, add a fire sprinkler system, etc. PBI is more than capable of handling any project.
Let us know from the beginning what you have in mind, and our design build team can work with you on what the final project will look like.
Our First Fire Damage Restoration Project
A property owner whose residence overlooked Patterson Park suffered a catastrophic fire in 1987 which destroyed his home. Knowing our work for high quality, he hired the Popowski Brothers to rebuild this property and return him to the neighborhood he loved.
At that time Mike and Dan were in the middle of selling 2 homes they redesigned and completely gutted and rehabbed. They were located on the opposite side of the Park on E. Lombard Street. The owner of the fire damaged property was aware of the rehabs and made an appointment to come in and look at the workmanship. After walking the properties and seeing the care and quality that went into the projects, he asked if Mike and Dan would be interested in restoring his fire damaged home.
This was the beginning of Popowski Brothers' dedication to restoring damaged properties for our clients.
Avoid Risk and Hire Trusted Partners for Fire Damage Restoration Services
Avoid code violations and shoddy workmanship by hiring an experienced, licensed, bonded, and insured commercial fire damage restoration team. We have decades of experience helping businesses and facilities of all sorts recover after a fire. Every project has unique challenges and unknowns. We'll prove our reputation as fast, agile problem solvers. You'll know you have a partner who can keep things moving forward.
Every time you hire a contractor for a commercial construction challenge, it's a risk. PBI Commercial delivers turnkey solutions with proven results, so you can have one trusted partner for resolving any restoration, renovation, or construction challenge that lies ahead. We proudly serve the Mid-Atlantic region, including Maryland, Washington DC, and northern Virginia.
Challenges Resolved. Guaranteed.