Who Do You Call for Biohazard Cleanup?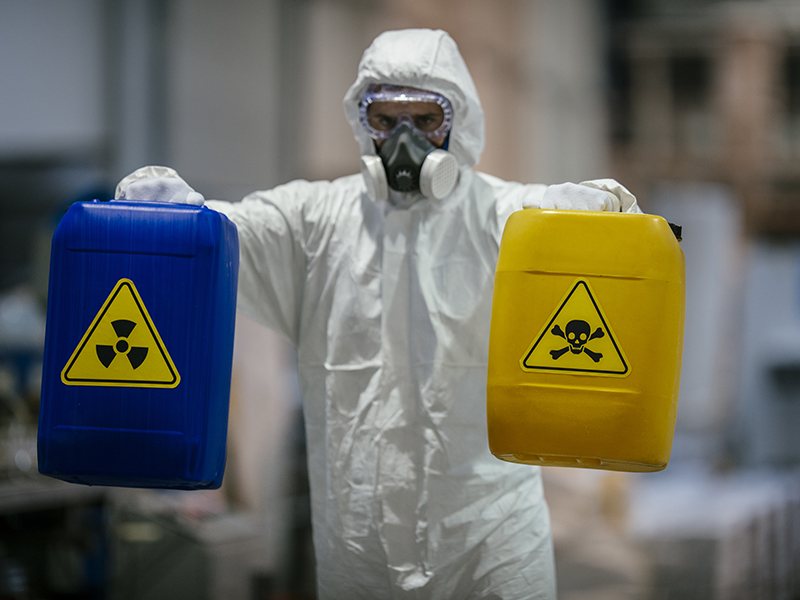 Before we get into whom to call for biohazard cleanup, let's make sure you know what we're talking about. A biohazard is short for biological hazard. That includes any biological substance that can be a threat to living things – in this case, humans. Biohazards may contain blood-borne pathogens, viruses, bacteria, microorganisms, and toxins.
So biohazard cleanup, or biohazard remediation, is when we remove the biohazard and do a deep clean, and any restoration needed. Now, some of this information can be pretty gruesome to think about, so fair warning.
Examples of Biohazard Waste
Some common examples of biohazards, especially the ones we deal with in our biohazard cleanup services, include:
Human blood and blood products in liquid or semi-liquid form and everything contaminated with it.
Human bodily fluids, other than blood, including semen, amniotic fluid, saliva, etc.
Pathological waste, which includes human tissue, organs, and body parts.
Human waste including feces and urine.
Animal waste including carcasses, body parts, and any bedding materials.
Sharps waste including syringes, needles, and razor blades.
Why You Might Need Biohazard Cleanup
There are many situations where your commercial facility might need biohazard cleanup services. These can include, but are not limited to:
Sewer backup
Suicides
Accidental deaths
Natural deaths (unattended death)
Crime scene cleanup
Overdoses
Miscarriage or birth in your facility
Industrial accidents
And more
Why You Need to Call Professionals for Biohazard Cleanup
Safe biohazard cleanup involves specialized training and equipment. It's not something your average janitor is going to be equipped to deal with. Someone who is not trained in biohazard cleanup could fall ill themselves, and inadvertently spread disease.
The Centers for Disease Control (CDC) lays out 4 levels of biohazards and the corresponding biosafety levels.
Biohazard Level 1
These agents pose a minimal threat to humans and the environment. Examples include E. coli and Staphylococcus.
Biohazard Level 2
These agents can cause severe illness in humans and are transmitted through direct contact with infected material. Examples include hepatitis A, B, and C, and HIV.
Biohazard Level 3
These biohazards involve pathogens that can become airborne and cause serious diseases. Examples include COVID-19 and tuberculosis.
Biohazard Level 4
These pathogens pose a high risk of life-threatening disease for which there are no vaccines or treatments. Examples include the Ebola virus and Hendra virus.
PBI Commercial biohazard cleanup technicians have the training and personal protective equipment (PPE) to handle the situation.  We follow all OSHA regulations and CDC guidelines.
PPE Required
The PPE required to protect against the spread of contaminated biohazards includes;
Masks or respirators
Goggles or face shields
Disposable gloves
Disposable coveralls
Rubber boots or disposable booties
The majority of the PPE will be safely disposed of along with any biohazard waste that we collect, according to federal, state, and local regulations.
The Stages of Biohazard Cleanup
There are four main stages to biohazard cleanup, including:
Cleanup
Sanitizing
Deodorizing
Restoration
Initial Cleanup
This is the initial stage where we physically remove the biological material and any items that have been contaminated. The biological material includes:
Blood
Bodily fluids
Other biological material
A comprehensive biohazard cleanup plan addresses every item and surface in the room, or rooms, affected.
Hard, non-porous surfaces such as walls, ceilings, and tile floors are easier to address, while porous items such as carpeting, mattresses, and furniture may need to be disposed of. In some cases, we may be able to cut out a portion of a larger item and dispose of that as biohazardous waste, while the remaining portion is disposed of normally.
Decontaminating / Disinfecting / Sanitizing
Once we have thoroughly eliminated blood, bodily fluids, and other biological material along with contaminated items from the premises, we enter the sanitizing stage. Sanitizing the area with medical-grade chemical sanitizing agents will kill any dangerous pathogens remaining on any surface.
We are careful to spray and wipe down all surfaces to ensure thorough decontamination, using EPA-approved disinfectants.
Deodorizing
Depending on the situation, industrial-strength deodorizing may be in order. This would be the case if you had a sewage backup. Deodorizing is also crucial if a body or animal carcass had started decomposing in your facility before it was discovered. The stench can be overpowering. We will use commercial-grade deodorizing agents to solve the problem. .
When we are done, there will be no trace of odor that could offend your employees or your customers.
Restoration
Ultimately, you hire a biohazard cleanup company to clean up and get rid of the smell. But when you hire PBI Commercial, you also get a commercial construction company that can restore a room or entire facility.
As part of the cleanup and removal of contaminated items, we may need to remove carpeting, drywall, ceilings, furniture, and much more. Rather than hiring another company for commercial restoration, we will partner with you to make everything look as good as new. We offer a fast turnaround with minimal disruption to occupied spaces.
Our biohazard cleanup team is discreet, and we are available to help you 24/7. We understand the safety and reputation of your business or facility depends on quick biohazard cleanup.
Avoid Risk and Hire Trusted Partners for Biohazard Cleanup
Thoroughly eliminate biohazard issues quickly by hiring an experienced, licensed, bonded, and insured biohazard cleanup team. The team at PBI Commercial has decades of experience helping businesses and facilities of all sorts get back to normal after a traumatic accident or crime. Every biohazard cleanup project has unique challenges and unknowns. But we are fast, agile problem solvers, ready to take on the unexpected.
Every time you hire a contractor, it's a risk. PBI Commercial delivers turnkey solutions with proven results, so you can have one trusted partner for resolving any restoration, renovation, or construction challenge that lies ahead. We proudly serve the Mid-Atlantic region, including Maryland, Washington DC, and northern Virginia.
Challenges Resolved. Guaranteed.